Our mission is to Be Loved…To Belong…To Become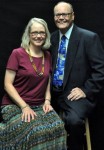 Rev. Carl Helm, Sr. Pastor
Carl joined our congregation in 2003 along with his wife JoAnn. He graduated from Midwestern Baptist Theological Seminary with a Master's of Divinity in Family Counseling. Carl believes a big part of his ministry is making sure he keeps up with the congregation by visiting people as often as possible. He believes that the only way to preach is straight from God's word. Carl is an avid golfer and fan of both the Kansas City Royals and Kansas City Chiefs.
Chris Ensley, Associate Pastor
Chris joined our congregation in 2008 along with his wife Jessica. Chris and Jessica have two girls, 7 and 4. Chris serves as our Youth and Worship Pastor. He graduated from Manhattan Christian College and Kansas State, and received his Master's in the New Testament from Johnson University. Chris enjoys spending time with his girls, Crossfit, and being outside.